Activities Day 2023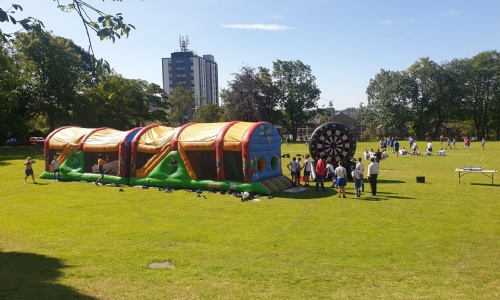 Activities Day 2023 at West Hill School
At the end of each academic year, we collapse our regular teaching timetable in order to give the boys the opportunity to experience something a little different, show off other skills, and to celebrate a successful year at school. We call this Activities Day.
Activities Day this year took place on the school site on Friday 7th July 2023 and allowed students to take part in activities that they would not usually participate in during the school day.
The weather was kind to us, so the day went ahead as planned with inflatable fun on the front field. A huge bouncy castle-style obstacle course was set up together with a giant inflatable Velcro darts board and an extra large Beat the Buzzer. Ceramics design and painting was taking place in the Art Block; where artistic flair was encouraged, and the boys painted tiles with a design of their choice.
Outside on the back fields the boys played Laser Tag and burnt off some energy with a football tournament.
Inside school, the Big End of Year Quiz provided some down-time and rest from the outdoor fun, as did the film-viewing sessions.
A well-deserved treat day!