Christmas Card Competition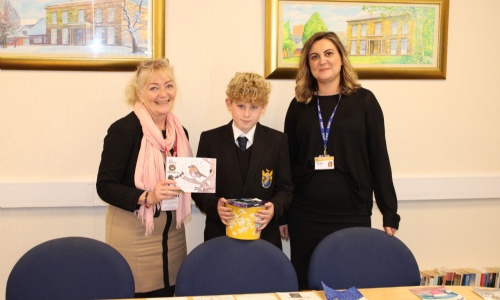 Design a Christmas Card to be delivered to 2000 homes around Stalybridge...
Earlier in September, Stalybridge North Labour Ward asked us to take part in their Christmas Card design competition. We were informed that the winner of the competition would feature on this year's Christmas card, and that it would be delivered to around 2000 homes around Stalybridge, as well as the champion winning a treat for themselves.
Our year 7 students took up the challenge! The boys have been very busy working on their designs in lesson, with many continuing their hard work at Art club! There has been a fantastic number of entries submitted, all of which have been considered during the judging process.
Judging took place today by Ms Cronin, Mrs Barton and Cllr Jan Jackson...
Congratulations to our winner whose entry is shown above. The cinema tickets, popcorn and chocolate were well received.
Congratulations also to:
2nd place - Max
3rd place - Alfie
4th place - Thomas
All year 7 students have put a great amount of work into their entries. Well done boys!